We think you should be rewarded. As a small business, your loyalty matters! Announcing our new (11/1/22) and improved The Pet Beastro Loyalty Program! There are several different ways to earn points and rewards! 
New & Exciting Features Include: 
Includes a mobile app that keeps track of all your frequent buyer punches and loyalty points with promotions and offers! With in-app notifications for our events, promotions, and specials! 
We can add ALL your dog and cat birthdays; just let us know when you are in-store, and we can include them in your profile. Birthday rewards will begin in January 2023. 
New Rebate Rewards Program: earn 2.5% rewards just for shopping with us! 
SMS text messaging is now available! Be the first to know when something is happening at the store! Never miss out on the fun again! 
Past points will be moved over when you use the same email you currently use for in-store purchases. Please Don't Panic. We are happy to help set you up on your next trip in-store! 

SIGN-UP/TRANSITION IS EASY
STEP ONE: Download the Astro Loyalty App in your app store:
STEP TWO: Login with the email you use in-store so that all your frequent buyer programs and loyalty points move over. We can help you on your next in-store visit if you are unsure of the email you used previously. If you don't use the correct email, your points and frequent buyer punches won't transfer to you!
STEP THREE: Click on The Pet Beastro, your pet store. And view your frequent buyer cards, special offers, and coupons, and set up your notifications. Any account info and pet birthdays will need to be changed or added in-store.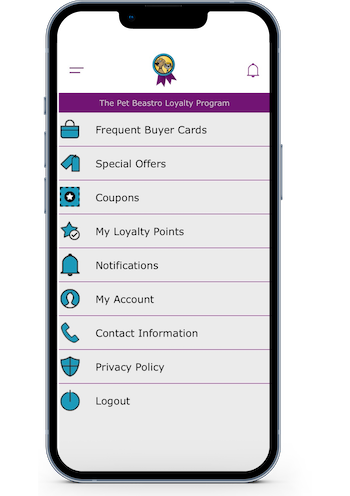 STEP FOUR: Start earning points and receiving rewards!
YOUR PURCHASES EQUAL POINTS
With every purchase in-store at The Pet Beastro, you earn points toward exciting rewards!
Every purchase equates to points. So, $1 = 1 point. Every point gets you closer to a reward! Once you achieve a certain level of points, you get extra bonuses! It may take 24 hours for points to show up on your account. 
1 point = Just for signing up for the program
1 point to use towards a special birthday gift in-store. For your pet's birthday on file. Now you can add all your pet's birthdays. offers will begin in January 2023. 
Please keep a lookout on our social media and emails for additional ways to earn more goodies and double and even triple-point shopping days!
YOUR POINTS EQUAL REWARDS
You redeem your points in-store once you reach a certain level or continue to accrue them until you reach the level you want to achieve. There is no cash value for points, which cannot be used online, and discounts cannot be combined with other offers.
1 point sign-up reward = Just for signing up for our loyalty program, we will give you 1 point, which can be used towards a refillable Dog Treat Cup or Catnip Tin for our monthly refill program. Only one cup or tin per household. Click here for more details. Refill is only 1 point every 30 days! 
200 point level reward = $5 towards non-food items, including treats, toys, and supplements, on a $5 purchase or more before tax. One time redemption. 
400 point level reward = $10 towards non-food items, including treats, toys, and supplements, on a $10 purchase or more before tax. One time redemption. 
800 point level reward = $20 towards non-food items, including treats, toys, and supplements, on a $20 purchase or more before tax. One time redemption. 
NEW! Rebate Rewards Program. Shop with us in-store 6 times and earn 2.5% rebate (pretax) to use on any products in the store on your 7th visit within 45 days. The more you shop, the more you buy, and the more you save! Rewarding loyalty for all our customers for choosing The Pet Beastro for all their dog and cat needs! 
Birthday Reward = 1 point on the 1st of your dog or cat's birthday month. Use this point during their special month for a mystery birthday gift. Just stop in to choose our carefully selected gift! 
Disclaimer: No cash value for points or rewards. Bulk orders, consultations/services, and custom blends/remedies are excluded. Points are unavailable for online purchases, and redemptions cannot be used online.  
ACHIEVE MEMBERSHIP LEVELS
The overall points you earn over a lifetime are added up. 
Become a Best Friend Pet Member at 1,000 points  
Everything our loyalty program offers, plus:
Pet Beastro recyclable bag for 1 point. 
Every 5th Saturday, receive 20% off everything you can fit in your earned Pet Beastro recyclable bag with the 5th Saturday tag. 
Once you reach this level, you are always at this level. 
Become a Premiere Pet Member, One of Our Top Customers
Everything offered in the loyalty program and Best Friend Pet Membership, plus:
Exclusive invitations to our VIP parties are held a couple of times a year. We provide many goodies, fun activities, and giveaways for our most loyal supporters.
This level varies for every VIP party based on customer spending habits before events. 
Communications
Set up your notifications to receive alerts and sign up for our SMS text messaging program while in-store to make sure you never miss an event, a promotion, or a special again! 
FREQUENT BUYER PROGRAMS: EVEN MORE WAYS TO SAVE & EARN
You may utilize our expanded frequent buyer programs and earn points too.
Click here to see our complete listing!
Please let us know at checkout in-store if you want to be included in the frequent buyer program.
We look forward to rewarding you for all you do to support our family here at The Pet Beastro! Shop Small; it makes a difference in your community!