The Pet Beastro was founded to help people learn why alternative and natural pet food options are better for your animal. If you feed better, your dog or cat will feel better and ultimately live longer.
The Pet Beastro Started Because Of The Love Of One Dog
Dr. Jill Tack's love for animals began at a very early age. While in grade school, she asked her parents for a dog but the stipulations were that she had to save her own money and help buy all the supplies and food for the pup. Little did she know at the time, that her first dog, Max, would change her life so drastically.
Later in life, when Max was diagnosed with cancer, she did extensive research and got deeply involved in learning how to heal animals naturally with herbs and homeopathy, as well as proper nutrition and food choices. Many of her friends and family became curious too. That led her to sell only the best dog and cat foods to friends and relatives from her home, which in turn parlayed into opening The Pet Beastro, an alternative health and pet food retail store for dogs and cats. The store offers many options for the different health ailments of dogs and cats. Jill believes that if she educates pet owners about their pet food options, they end up with their family pet living a longer and healthier life.
Feed Better. Feel Healthier. Live Longer.
It is our mission to help animal caregivers understand what you are feeding your pet and the nutritional support it provides to maintain health and longevity. Healing your cat or dog from the inside out. And promoting overall wellness. 
The Pet Beastro offers safe and natural pet food, treats, and supplies for cats and dogs. We have many options that are organic, non-GMO, and single ingredient. We carry the best & largest selection of raw pet food in Michigan. The Pet Beastro was founded by a Dr. of Naturopathy & offers wellness consultations with a strong emphasis on holistic pet care including nutrition consults, animal chiropractic care, & homeopathic & herbal remedies for common dog & cat health conditions. We offer same-day local pet food delivery in Metro Detroit, in-store shopping in Madison Heights, Michigan, curbside pick-up, and online shopping via our online natural pet food, treats, & supply store with free shipping on all orders over $49 within the continental U.S.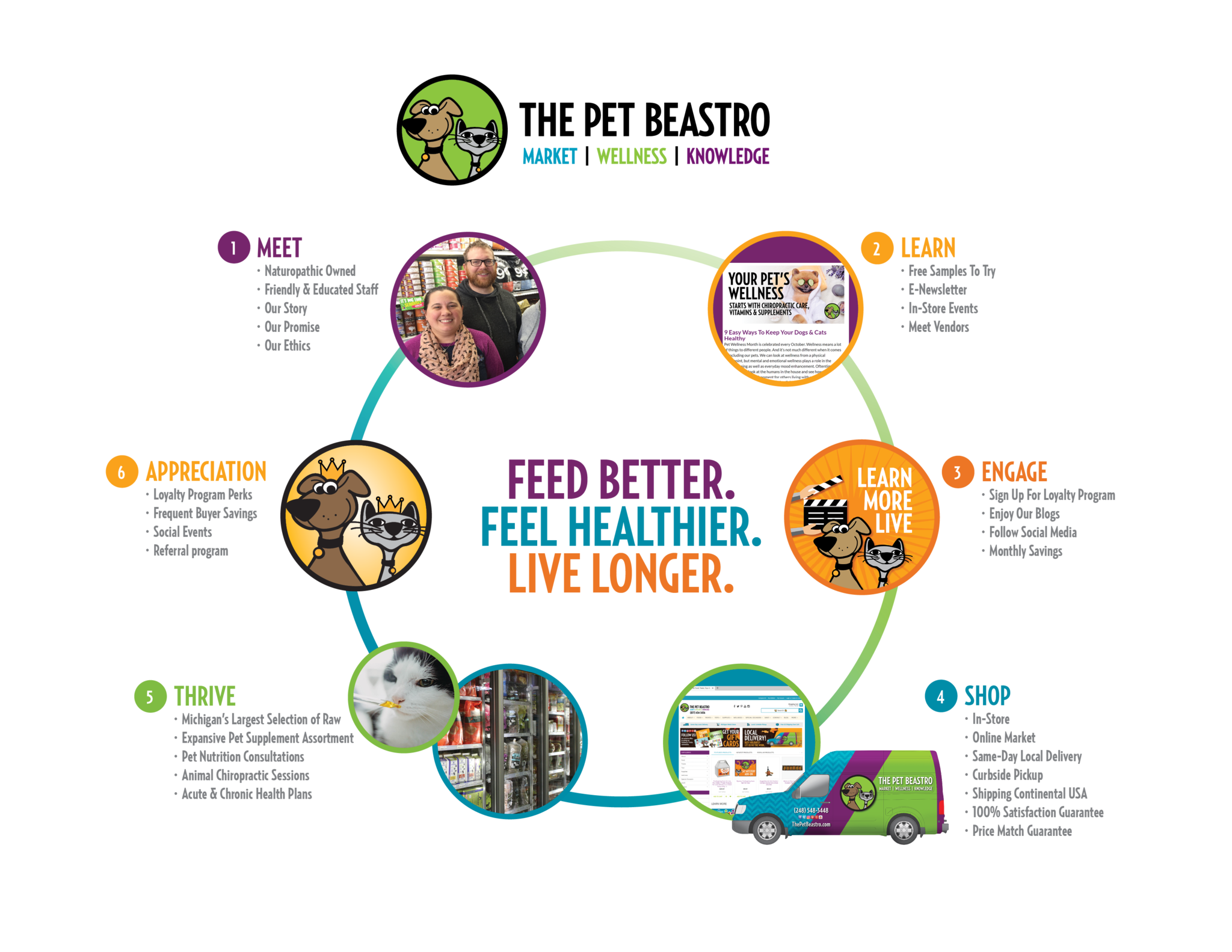 Education & Certifications:
Dr. Jill Tack is a Board Certified Naturopathic Doctor from the Naturopathic Institute of Therapies and Education and specializes in pet nutrition and overall dog and cat health and wellness.
Dr. Tack has also earned an Herbal Certification from GAIA Center for Herbal Studies. She has studied Classical Homeopathy under Dr. Glen Dupree.  With 10 years of experience in pet nutrition and raw feeding, Jill is asked to speak at many wellness and pet-related events/functions.
She has worked with Greyhound Rescue & Adoptions in Southeastern Michigan since 2003. She also started working with a Bengal Cattery in 2012.
Our Team
We have an amazing team of dog and cat lovers that are here to help pet parents find the best pet products for their fur kids.
Click here to learn more about our team of pet food specialists.
Click here to learn more about our raw pet food certification. 
Giving Back
Proudly serving the Metro Detroit community, we are committed to helping local animal shelters, government animal organizations, and police canine units feed better, so their animals feel better and live longer.  
Through education, we provide pet owners with the most up-to-date research and health resources available—empowering them to make the best care decisions for their animals. The Pet Beastro team sees itself as a valued and trusted addition to the local community and believes it is vitally important animal caregivers understand what they are feeding their pets and are aware of the nutritional support required to maintain health and longevity. We host pet-related events and offer consultations and services that increase awareness about the best products on the market, options for alternative healing and pet care, and how the proper selection of food and treats can make a difference in an animal's quality of life.
Learn more about how we support our planet, local community, and adoption organizations. 
Media Kit