Here are four easy ways to keep your pets entertained inside and outside so they can shake off that extra energy and you can get your work done at the same time.
It's that time of year when winter seems longer than anticipated. The cold wind, wet snow, and inclement weather make animal caregivers want to stay inside snuggling with our pets. However, our pups don't always have those same thoughts. Some dogs love the snow. Some dogs hate the snow.  Either way, there are plenty of ways to keep your pets entertained inside and outside so they can shake off that extra energy.
1. Supervised Play For Dogs
If you have some other pups in the neighborhood, at a local park, or at a training center where the pups can have supervised playtime, this can be a great way to burn off the zoomies. Social play is good for dogs, where they can wrestle, hang out, and be dogs! You can also take them out for a quick leash walk before or after their playtime. It's one of the best ways to build your bond. It's a way to connect and be present at the moment with them.

2. Interactive Toys & Games For Dogs & Cats
Playtime isn't for every dog. If your dog doesn't play nice with others, you may want to try some at-home options such as puzzle games, enrichment mats, licki mats, and treasure hunts. I love treasure hunts for our cats. Leash walking your cat in the winter isn't fun for anyone. Instead, I create a fun hunt inside the house. I use freeze-dried treats and hide them in the cat trees, on the window sill, on the dresser, on the bookshelf, and in any other place where our cats would jump to find a treat. Licki mats are a great option to help with boredom and stress. Peanut butter or frozen products are fun to incorporate for your dog or cat to lick all the fun treats. We also use interactive toys, feeders, and puzzles to keep the cats entertained. Some of the same puzzle toys you would use for your canines can also be used for felines. Depending on the skill level of your pet, you may need to work alongside them the first few times for them to understand the puzzle before being on their own. Interactive toys and hunts provide good mental stimulation for your pet which helps keep the mind sharp. 

3. Natural Chews For Dogs
Raw bones and chews are also a good alternative to keep your dog busy. Raw bones come in different shapes and sizes. Dogs need to chew, it's just on occasion, they chew the wrong things in the house. Chewing can be calming and relaxing. Many times a 30-minute chew session can be long enough to get your dog to take a long afternoon nap. For small dogs, we have small marrow bones and fermented chicken feet. We have medium-sized marrow bones, lamb femurs, and fermented pigs feet for medium size dogs. For large breed dogs, we have large marrow bones and split knucklebones. We also carry many non-frozen chews that are long-lasting. Earth Animal No-Hides, ZiwiPeak venison shank bones, Barking Buddha beef cheek rolls, and RedBarn bully rings are just a few options. Chews can be just what you need during that zoom meeting to keep them entertained. 

4. Frozen & Crunchy Treats For Dogs & Cats
Frozen treats are also a good alternative if you are out of ideas or your dog gets bored easily. You can level up with a refined brain game by refreezing goat milk, bone broth, or Steve's Enhance goat milk yogurt into a cup or interactive toy. For a bonus, you could add frozen fruit or chew into the frozen mix. You could give your dog zucchini sticks, cucumber sticks, kale ribs, or celery sticks straight from your refrigerator for quick crunchy chews. The possibilities are endless when making your pup their favorite frozen treat.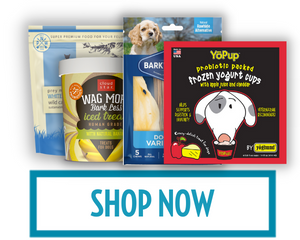 Just like humans, I feel like cats and dogs get spring fever. When the spring sun hits and the temperature starts to warm, we all want to be outside more and soak up the fresh air. Chews and interactive toys can be used year-round, but they definitely get more used during the winter when we want to stay inside.
Stop by our retail location in Madison Heights, Michigan, just north of Detroit, which is open Monday through Saturday, 10:00 AM - 8:00 PM, and Sundays from 10:00 AM - 6:00 PM, or visit our 24/7 natural pet food, treats, toys, and supplies store online, to get recommendations on how to keep your pet busy in the winter. Please message us on Instagram or Facebook for further questions!