Did you know goat milk is one of the most commonly consumed types of dairy in the world? Nearly three-quarters of the world's population consumes goat milk, making it the most popular over any other animal's milk, including cow milk! 
Did you know goat milk is one of the most commonly consumed types of dairy in the world? Nearly three-quarters of the world's population consumes goat milk, making it the most popular over other animal's milk, including cow milk! 
Another fact I was surprised to learn in my first week at The Pet Beastro was really how much hydration our pets needed to get from their food source. Moisture is vital in all the body's systems, and it takes more than just the water bowl side dish to keep our furry friends fully hydrated. 
About a year ago, our dog Theodore Von Bearington, or "Bear," lost interest in his kibble. He would reluctantly eat it if we added some eggs or leftover veggies and proteins from dinner, but he'd still do his best only to eat his favorite pieces from his bowl. We decided to start adding canned food and pumpkin to the kibble, which he loved, but it still sat around waiting for the minimal moisture to soak in, and even then, he'd still preferred a topper of encouragement. 
When I started at The Pet Beastro and began learning about the best ways to feed our pets, we decided to introduce Bear to more raw elements in his diet, but in our house, we often need a simple routine, and I thought the addition of goat milk would be the perfect way to start as it packs a lot of benefits in one easy added step. High levels of protein providing amino acids, the building blocks of life, plus calcium for bones, and packed with vitamins and minerals are effortlessly drizzled into our regular feeding schedule.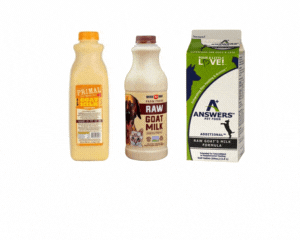 Raw Goat Milk Benefits
Dogs and cats of all ages can partake in this super-powered treat. Goat milk is not a complete and balanced meal, but it can be added daily to their usual meal to get those additional nutrients. 
Naturally occurring enzymes and billions of probiotics are the good bacteria that support his digestion and helped us transition to a grain-free kibble without upsetting his stomach. 

Goat's Milk also has less lactose than cow's milk, making it easier to digest and a great option for pets with sensitivities. 

Also, I knew this would improve nutrient absorption giving him the full benefits of whichever complete and balanced kibble, raw, or combination diet we choose. 
Since goat's milk is considered the "universal milk," it can be a supplement for any mammal and is particularly beneficial for puppies and nursing or pregnant pets. If you plan to adopt a new friend from a shelter, introducing goat milk into their kibble adds the essential probiotics to build the immune system and boost their gut health. 
Two weeks ago, I picked up a Boss's Dog Raw goat milk bottle from our freezer section. Bear is getting a bit older, and I love the added DHA from Salmon Oil to support his brain health. He's 13 years old now and is at least partly a breed known to have hip issues, so having an additional source of calcium to support bones and strengthen muscles was important. 
We added 2oz into his current bowl combination over the next few weeks. The suggested serving amount is 2 oz per 20 lbs, and there are so many ways to use this probiotic powerhouse. We started using it as a food topper with his old kibble brand, and it's perfect as a hydrator for air or freeze-dried meals. This summer, I'll go all out for him with popsicles made conveniently in an ice tray or frozen onto a lick mat. As a special treat, it can be used to bake your own pet-friendly treats, and I was excited to find that when you whip egg whites and goat's milk together, it makes for a frothy and healthy Puppuccino.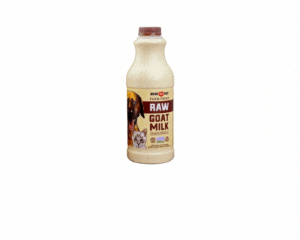 Raw Goat Milk Myths
In many states, including Michigan, sales of raw goat milk to humans are illegal. State and Federal guidelines deem it unsafe for humans to consume raw milk. However, some cultures drink raw milk as part of their daily routine for health benefits and to boost the immune system. If you are buying goat milk from the grocery store, then legally, this has to be pasteurized milk for human consumption. While this could be a good option for the humans at home, we don't recommend this for our paw pals. When milk is pasteurized, our pets are losing out on many of the enzymes and nutrients lost in the high-temperature process. 
At The Pet Beastro, our freezers have a wide selection of raw goat's milk options for pick-up or local delivery. Not only do all of these meet our store's high nutrition standards, but many have additional natural ingredients to target the health goals of your unique pet.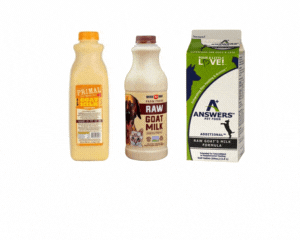 Case Study: Noticeable Changes with Bear Drinking Raw Milk
Since starting to top Bear's bowl with goats milk, here is what I've already noticed in the first couple of weeks:
The goat's milk adds irresistible flavor and moisture, and his food no longer sits out. He comes to gobble it up right away and even licks the bowl clean. Plus, we had no issues switching him to a grain-free kibble.

The Boss Dog Goat Milk includes organic cinnamon, ginger & turmeric, so not only do I think these add to the flavor, but for our 65 lb cuddle-bug, his coat has never been softer, and he certainly isn't complaining about the extra pets we enjoy giving. His skin, too, has noticeable changes and less irritation. 

It's still a little early to see the benefits for his bones, muscles, and gut health, but I know those essential nutrients have started working and shining through in his increased energy. 
Next time you stop by our retail location in Madison Heights, Michigan, just north of Detroit, which is open Monday through Saturday, 10:00 am - 8:00 pm, and Sundays from 10:00 am - 6:00 pm, ask me how its going with Bear or chat with any of our staff on the best goat milk options and benefits for your pet. Also, visit our 24/7 natural pet food treats, toys, and supplies store online. Please message us on Instagram, Facebook, or TikTok for further information! We are more than happy to answer your Goat Milk questions!