Posted on
Posted in cats, Dog Mental Stimulation, dogs, Natural Cat Treats, Natural Dog Treats, Natural Pet Care, pet care, pet nutrition, pet wellness, Raw Cat Food Diet, Raw Dog Food Diet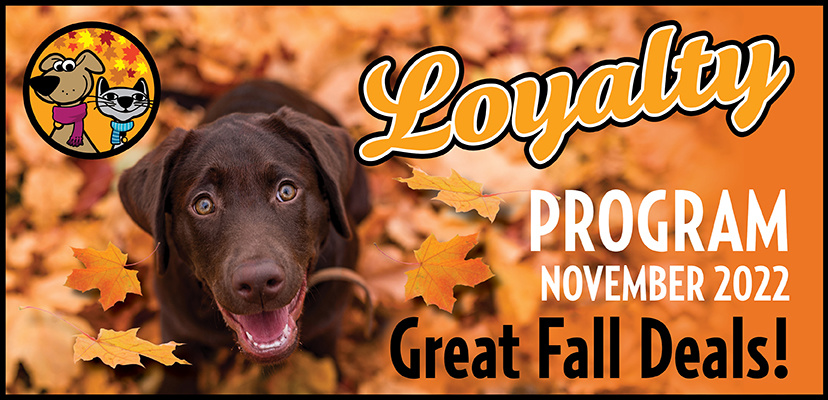 This is the time of year that we nourish our bodies with warm, slow-cooked foods that help warm us on cool days. It's a great time to add some root veggies to our meals and our dogs' bowl for added benefits. Check out our furtastic November deals!
We are quickly rounding out the year and fall temps have officially arrived! I feel like once we hit November, winter becomes a bit more real, and warm days and cool nights quickly diminish. Although fall is fun, we also look forward to the holidays and having cozy snuggles on the couch with our pets. This is the time of year that we nourish our bodies with warm, slow-cooked foods that help warm us on cool days. It's a great time to add some root veggies to our meals and our dogs' bowl for added benefits.
Answer's Pet Food Cow Kefir
Along with the colder days and shorter days, it's always great to have an indoor activity for your fur kids. One of the best ways to keep them entertained is by using enrichment toys and mats. These are great for freezer food, toppers, and other healthy snacks while they use their brain and stay focused. Answer's cow kefir is a great product to use for these types of enrichment activities. This product is great for multi-pet households as well as for cats or dogs. This kefir is fermented which gives it loads of natural probiotics and enzymes to support your pet's gut health. You can find this product in the freezer aisle at The Pet Beastro and comes in a pint, quart, or half-gallon size based on your needs. This month you can save $1.00 off pints and $2.00 off quart sizes. We also sell this product by the case if you like to buy in bulk, stock up, and save!

Himalayan Puff Treats 
Himalayan Yaky Puff Treats are a unique treat because their main ingredient is real cheese. Many of our Beastro fans are familiar with the chews that are made from yak milk that resembles a hard piece of cheese in a coin shape. These Yaky Puff treats are a great crunch for big dogs but could be used for all sizes as they are a flat treat and easy to chew. These treats are lactose-free, gluten-free, grain-free, soy-free, and corn-free making them an option for dogs with sensitivities. This is another great low-fat option for pups who need to lose weight or have struggled with pancreatitis in the past. save $1.00! Choose from the following flavors:
Cheese (not on the website)

Nature's Logic Canned Dog Food
If you are looking for a nutrient-dense canned food that is high in calories, then Nature's Logic is one to check out. Nature's Logic has fit our Beastro Promise for many years. This is one of the very first brands that we started with many years ago. We love that they are one out of two options on the market that avoid added synthetic vitamins and minerals to their recipes. This company uses whole food ingredients to make their pet food complete and balanced. If you have never used canned food before, there are many benefits and reasons to have it on hand. For example, canned food can be used as enrichment toys for gloomy days! You can add it to dry food to increase moisture and palatability. If your dog has a dental cleaning or teeth extracted, you can use soft food for a few days after the surgery as their mouth heals. Great for dogs who are picky and don't eat consistently for you. You could even have some on hand for emergency preparedness for the winter months if there are power outages or upcoming travel. For November, if you buy 2 cans of canned dog food, you will get 1 free, mix and matching allowed. 

Northwest Naturals Turkey Choices
Calling all raw feeders! This month, Northwest Naturals is celebrating with $5.00 off one turkey item. Choose from frozen or freeze-dried nuggets for cats or dogs for this one-time redemption. This offer is only valid through November 15, 2022. We would prefer you have this on hand to serve your pets "turkey dinner" rather than the cooked one you'll be serving on your table for friends and family. Northwest Naturals' turkey options are safe and healthy for cats and dogs that are complete and balanced for their nutritional needs. If you don't feed raw, then check out the freeze-dried option. These are great for interactive toys, high-value reward treats, or a great treasure hunt for kitties. We love Northwest Naturals' commitment to creating high-quality food that is USA made for our cats and dogs. 

Nulo Training Treats
Even though you spend more time indoors with your dogs in the cooler temps, you don't want to stop your training routines. If you need a great soft & chewy training treat, check out the Nulo Training Treats for your next session. These low-calorie treats include superfoods to boost the reward and health value. Treats are single protein options with all-natural ingredients that are grain-free, gluten-free, with no artificial additives, and made in the USA. Choose from:
Make your next training session the best one yet!

Pet Releaf Skin & Paw Balm
With cold weather, comes paw care and health as a challenge. Much kudos to all the pet parents who walk in the cold weather. Some dogs could care less if there is rain or snow which in the long run, makes for a relaxed and tired dog. We all know exercise is good for human health too. However, we don't walk outside with bare feet in the rain and snow. Our dogs' feet can handle some inclement weather but make sure to inspect your dog's feet and paw pads regularly to see if they need extra support. Our friends over at Pet Releaf just reformulated their skin & paw balm which is now safe for cats as well as dogs, and you can get it at The Pet Beastro and save $1.00 from the normal price. This topical balm is safe and soothing for bug bites, skin irritations, and salty and snowy paws. This product is 100% vegan using plant-based ingredients for animals with sensitive skin to help reduce external irritations. Don't believe me? Ask our sales associates Maddie or Jayden next time you stop in. They both use this product topically on themselves.

Thanksgiving Feast Dinner Box
It's that time of year again! Back by popular demand, we have limited Thanksgiving Feast Dinners for pre-order! As always, the Feast has your pets' health in mind with the box jam-packed full of turkey options that you can use for Thanksgiving Day to help ward them away from the naughty human items that are spread out on the dinner table. Choose from a cat or dog-themed Feast box. These items are great to give as a gift, take on your journey when visiting family, or boost your pet's bowl on turkey day. Oftentimes, the box will give you plenty of leftovers for the days to follow. Pre-order now so you don't miss out!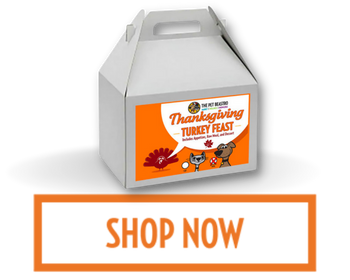 This time of year is a time to be grateful for the things we do have and the time we get to spend hanging out with our pets. Enjoy each day with your furry friends as winter is just around the corner.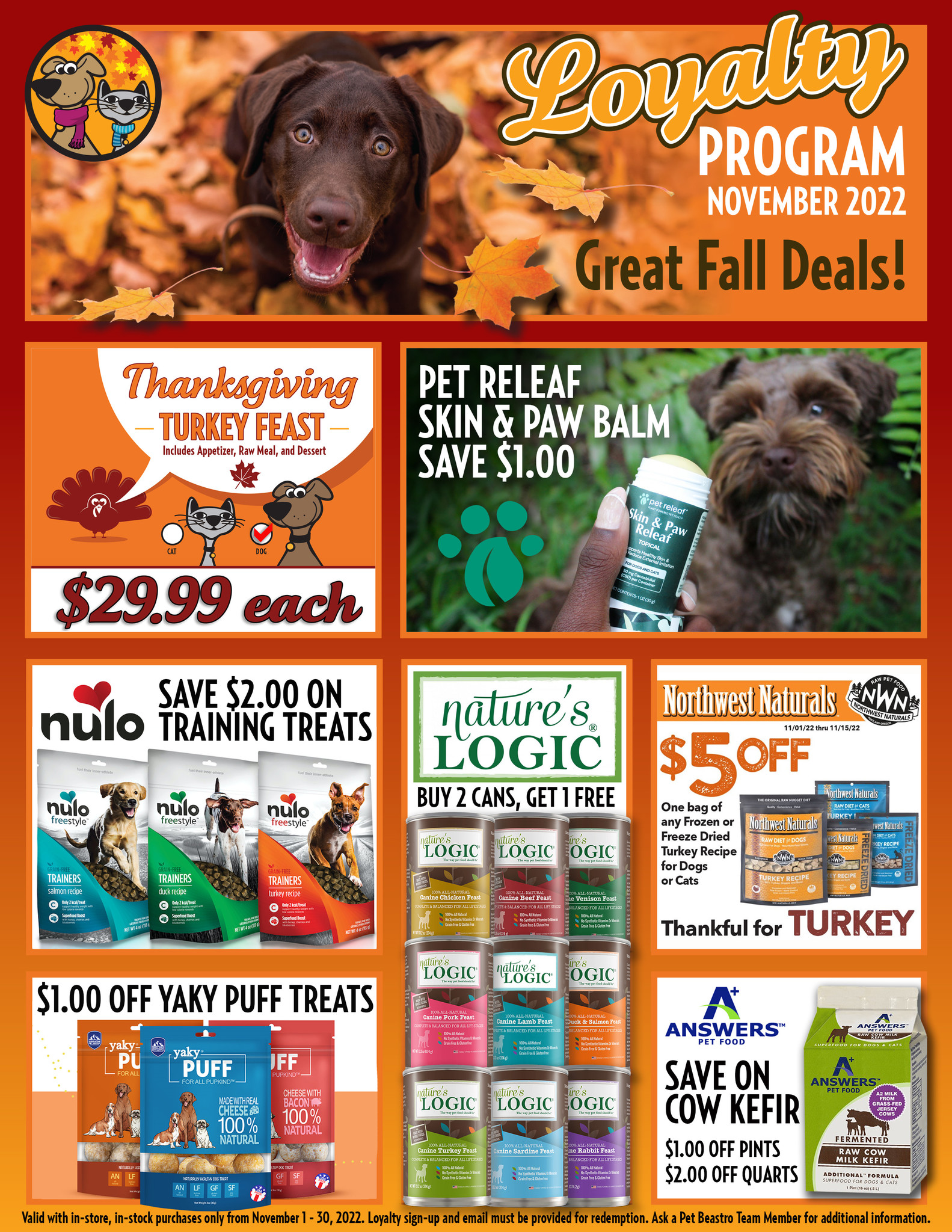 Stop by our retail location in Madison Heights, Michigan, just north of Detroit, which is open Monday through Saturday, 10:00 am - 8:00 pm, and Sundays from 10:00 am - 6:00 pm. Also, visit our 24/7 natural pet food, treats, toys, and supplies store online or message us on Facebook for any inquiries!