Posted on
Posted in staff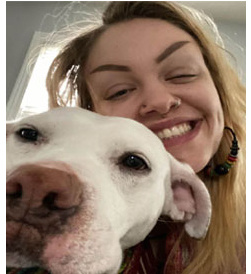 Jennah likes helping pet owners to transform their pets diets and discover a natural way of healing and she loves our animals!
Meet Jennah:
Here are a few fun tidbits about Jennah! 
Do you have pets at home? 
I have a white and tan 3-year-old pitbull named Hope, a 10-year-old Nebelung named Ozzy and 7-year old Torby coated kitty named Anastasia! Their all very different personalities, but very fun and I found both Hope and Ozzy on craigslist, and Stasia actually was stuck in my old neighbor's fence about to be eaten by her dogs when I found her! She was a baby at the time and has been with me since.
Why did you want to work for The Pet Beastro?
I love animals and believe whole-heartedly in holistic healing and natural foods.
What have you learned by working at The Pet Beastro?
I learned the most about raw feeding and homeopathy. Dr. Jill is an excellent educator!
What is your favorite part of your job at The Pet Beastro?
Helping pet owners transform their pets' diets and discover a natural way of healing! I also love the animals that visit the store and the store cats!
What is your favorite product at The Pet Beastro and Why?
Goats Milk (any brand we carry) and Ultra Oil! They both help immensely with joint problems and skin allergies.
What is your advice or best tip for pet parents?
Don't be afraid to try some raw, you will notice a difference!
What do you most enjoy doing in your free time?
I love music, making and listening of course. I love reading, hiking, poetry, and art. I love when it's nice out to take hikes or walks in nature preserves or trails and bring my dog when I can.