Posted on
Posted in cats, Dog & Cat In-Store Events, Dog & Cat Supplements, Dog & Cat Wellness, dogs, healthy pet food, Made In the USA Pet Food & Supplies, Natural & Safe Pet Food Options, Natural Pet Supplies Specials & Savings, Pet Beastro Exclusives, Treats & Toys For Cats & Dogs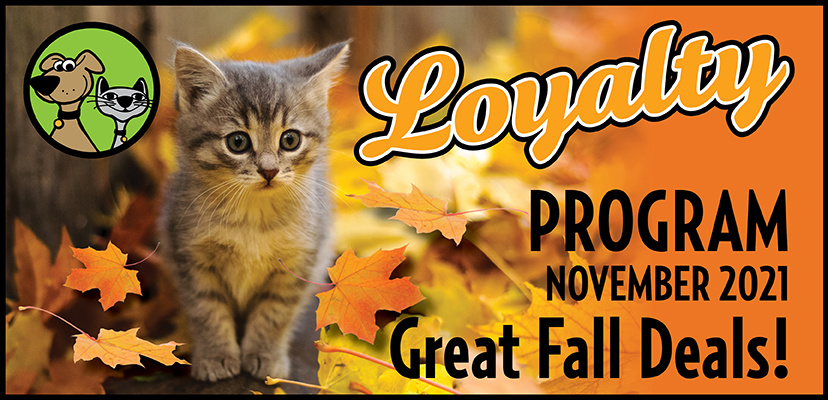 Autumn is officially in full swing as the temperatures drop and the leaves begin to fall. To celebrate the holidays, we have lots of delicious and nutritious turkey treats and deals for your cat or dog to enjoy this month! Don't wait, these furastic deals are only available until 11/30/21. Discounts are only available in-store and while supplies last for our loyalty program members only.
Fall is officially here! Recently, we had our first cold temps at night and frost! As we move into November, the weather dips to even cooler temperatures, and you may be adjusting your dog's walking schedule to make sure everyone still gets daily exercise before the sun goes down. 
These last few months of the year are always hectic and busy. Don't forget about your furry friends when it comes to involving them in traditions and festivities. You will want to gobble up our November in-store savings, it's all about turkey day! All savings are valid in-store through 11/30/21 or while supplies last. No rainchecks or cash value. 
Thanksgiving Turkey Feast For Cats & Dogs
This is our second year offering our Thanksgiving Turkey Feast. This custom curated box is made specifically for cats or dogs and is only available for preorder for a limited time and in limited quantities. They are available for either in-store or online ordering. The Feast will be ready for pick up or local delivery, November 22 - 24, 2021. Our Turkey Feast For Pets is a great deal at only $29.99 per box, your choice of cat or dog. They are loaded with safe and yummy food, and toys.  If you were to purchase all the items in each box separately, the retail value is over $65. That is a savings of over $35! 
Primal Pet Food For Cats & Dogs 
One of our favorite brands, Primal Pet Foods, is offering a $2.00 discount on freeze-dried treats.
Primal Liver Munchies are great for cats and dogs and come in three delicious flavors:
They offer a high reward treat and are great to mix into your training pouch or use as a treasure hunt treat inside for your cats. We love that Primal is always being innovative with new treats, foods, toppers, fresh food, freeze-dried, and frozen. You will see new product launches from this company through the end of 2021 and into 2022.
Nulo Mix-Ins For Cats & Dogs
Nulo meaty pouches are great to pour over or incorporate into your pet's daily bowl. This mix-in pouch has very limited ingredients with varieties for cats and dogs in both poultry and non-poultry options. Great travel size if you need to toss this into a travel bag or provide it as a lunchtime snack at doggie daycare. Each pouch has a generous portion of broth to help with hydration. For the month of November, Nulo Meaty Pouches are buy 2, get 1 free with in-store loyalty purchases.
Nulo Mix-In Cat Flavors:
Nulo Mix-In Dog Flavors:
Plato Dog Turkey Dog Treats
Plato Treats, specifically the turkey treats come in a few flavors and rectangular shaped crunchy treats with savings this month. For the month of November, get $2.00 off select turkey treats. This is a great treat where every ingredient has purpose, dogs love the taste, and pet owners like that turkey is the first ingredient. These limited ingredient treats are safe and natural that you can provide on turkey day. You can use these in interactive toys and dispensers to keep your pup busy during the colder days of winter. 
Choose from the following Plato Dog Treat flavors:
FirstMate Dog Food
FirstMate is an independent brand that has been producing pet food since 1989. This family owned and operated company has pride in their sourcing and fishery making it so they have complete production quality and control. FirstMate offers dry food and canned food that are formulated for both cats and dogs. The most recent item in their line up are dog treats. Each treat is formulated using similar ingredients to their food to help with those pups who have sensitive stomachs. Each heart shaped biscuit is limited ingredient, grain-free, gluten-free, and pea-free, and made for all life stages. These crunchy treats are low calorie and can be used for training or any other time you need a quick reward for good behavior. This month when you purchase any size bag of FirstMate dog food, you will receive one free FirstMate crunchy treat.
Choose from the following First Mate flavors:
Pet Releaf Edibites Hemp Chews For Dogs & Cats
Just in time for the holiday, Pet Releaf is offering multiple savings on their holiday inspired calming treats to help your dog during the stress of family visiting and festivity happenings. For the month of November, save $1.00 off trial size, $2.00 off small/medium bites, and $3.00 off of the large breed pouches, select flavors only. Pet Releaf is one of the leading companies in hemp help for your cats and dogs. Hemp can provide calming, relaxation, and immune support to any age pet. The Edibite chews and flavors are specially formulated for dogs to help with situational anxiety. The chews can be used for any situation from the holidays & visitors, to vet visits, to grooming appointments, to car rides, to storm related anxiety, and the list goes on. It's always great to have these calming chews on hand as you never really know when your pet might need them. 
Savings this month are on the following Edibites flavors:
The Bear & The Rat Goat Milk For Dogs
Need a great holiday gift or dessert for your dog? Try out The Bear & The Rat goat milk flavored dog friendly yogurt cups with InClover Optagest. This synergistic combination of yogurt and digestive supplement is a great healthy treat to support your dog or cat's digestive system. Save $1.00 per 4 pack during the month of November.
Choose from the following Bear & The Rat Goat Milk flavors: 
Another month with great discounts and savings offered for in-store purchases when you are signed up through our loyalty program. Enrolling in our loyalty program is free & easy to join, earn points and rewards toward future purchases, and start saving the same day you sign up! If you are already a loyalty member, you can still participate in the savings. If you have further questions, any one of our staff members can help! Or visit our retail store to learn more about our food suggestions, supplement options, and loyalty savings, or visit our natural pet food, treats, toys, and supply store.