Did you know feeding your dog vegetables, mainly green vegetables, can help them live a longer and healthier life?
Did you know feeding your dog vegetables, mainly green vegetables, can help them live a longer and healthier life?
Do Dogs Need Fruits & Vegetables?
While dogs are carnivores, they are not considered obligate, like cats. Some consider dogs to fall between omnivores (plant and meat-eaters like pigs) and the carnivore spectrum because, in the wild, they eat whole prey and are often fruits and veggies inside their stomachs. 
...And Cats? 
While greens have many benefits for cats, too, we have found many felines will eat some of these superfoods mixed into their food, but many will also turn their nose up at them. We suggest trying a few different kinds to see if one will work for your kitty. 
Are Cooked Vegetables Safe For My Dog?
Many canine parents wonder if their dogs can have cooked vegetables. While dogs can digest cooked vegetables, heating through cooking destroys many of the nutrients and natural enzymes that help digest the food. Feeding fresh, raw vegetables is preferred because the nutrition is kept intact and preserves the living enzymes, which is crucial for optimal pet health.
11 Greens That Will Improve Your Dog's Health
Below is a list of all the benefits various greens offer and how they can supercharge nutrition to your pet's diet. Many of the food and treat items we carry include these green superfoods!
Kale:

A source of antioxidants, fiber, vitamin K, vitamin E, iron, and magnesium 

Cilantro, bok choy, spirulina:

all 3 of these greens protect the liver from toxins

Celery:

A source of fiber and vitamin A

Parsley:

Offers support to dental and breath health, digestive health, and urinary health and is a source of potassium

Zucchini:

A source of vitamin K and magnesium. This green vegetable also aids in digestion and bone health 

Dandelion Greens:

Offers support to the liver and digestive tract. Also a source of iron, calcium, and vitamin E

Broccoli, Cucumber:

Both greens offer a source of water and hydration which also helps support kidneys

Chard, Green Cabbage, and Wheatgrass:

A source of vitamins A, K, and C, as well as magnesium and potassium 

Spinach:

A source of enzymes and the amino acid L-glutamine

Wheatgrass:

A source of vitamins and minerals, including Vitamins A, C, and E, iron, calcium, and magnesium.

Seaweed:

Seaweed is a green alga called chlorella. It provides a complete protein source containing all nine essential amino acids. It also has iron and Vitamin C, and small amounts of magnesium, zinc, copper, potassium, calcium, some B vitamins, and omega-3's
Adding even one or two greens to your pet's diet can do wonders for their health and overall wellness. Mixing it up and adding a variety will provide a well-balanced diet. 
5 Superfood Products For Your Dogs
Below are some Beastro Fan favorites that are loaded with a variety of these superfoods!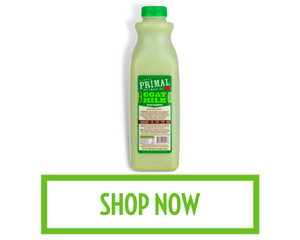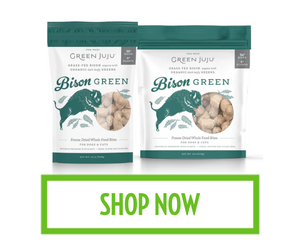 No matter what type of diet you feed your pet, adding fresh, raw greens in any amount can improve their health and quality of life. Make The Pet Beastro your go-to destination for the best superfood green products! Stop by our retail location in Madison Heights, Michigan, just north of Detroit, which is open Monday through Saturday, 10:00 am - 8:00 pm, and Sundays from 10:00 am - 6:00 pm, or visit our 24/7 natural pet food treats, toys, and supplies store online. Please message us on Instagram, Facebook, or TikTok for further information!