Posted on
By Dr. Jill Tack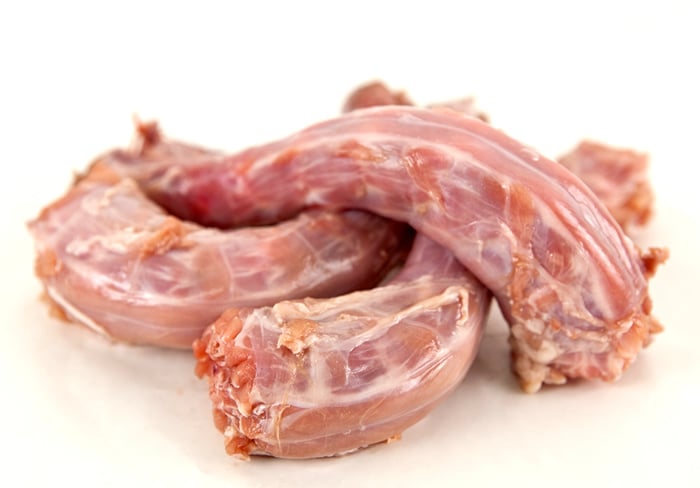 Most folks are unaware of the importance of a raw diet for cats. Our feline friends are considered more obligate carnivores meaning they do best on an all meat diet compared to canines which do well with meat, vegetables, organs and typically a small percentage of high quality grains.
Most folks are unaware of the importance of a raw diet for cats. Our feline friends are considered more obligate carnivores meaning they do best on an all meat diet compared to canines which do well with meat, vegetables, organs and typically a small percentage of high quality grains.
Cats Are Carnivores
Let's break down cat food a bit more. I hear many folks say they feed Friskies or a similar grocery store brand. For whatever reason, convenience, marketing and TV commercials or they were eating a particular food at the rescue, it is by far not the best but one of the more well-known available cat foods. But cats get addicted to junk food. The first issue I see is that Friskies is 41% carbohydrates and the top ingredients are burdensome on cats' organs to break down. The top ingredients are ground yellow corn, corn gluten meal, chicken by-product meal, meat and bone meal, soybean meal, beef tallow preserved with mixed-tocopherols and turkey by-product meal.
The cat's digestive system is not set up to digest corn or soy. As a reminder the corn and soy used in most pet foods is genetically modified which causes another set of symptoms and problems for the digestive tract and the overall vitality of the animal. Feeding a grain-free dry food would be even better. Even when shopping for a grain-free food, you should still pay attention to the manufacturer and understand their company philosophy. Feeding a grain-free food such as Acana or Orijen is better than some of the main stream foods that are on the market because they using free range meats and nest laid eggs. Orijen cat kibble is just a mere 20% carbohydrates coming from russet potato, sweet potato and pea fiber which are all more natural and more digestible than corn and soy. The first six ingredients are all meat-based which include fresh boneless chicken, chicken meal, fresh boneless salmon, turkey meal, fresh chicken liver and herring meal. However, dry food is dry food. No matter what name brand, kibble has been processed; just some companies processing standards are more stellar than others. There's a plethora of garbage junk foods, plenty of middle-grade foods and only a handful of high-end kibble based foods. But none of these compete with a raw based diet.
Cats Can Become Addicted to Carbs (just like us)
What typically happens is that our cats become addicted to the carbs that many dry foods provide. When we don't offer variety they can be extremely picky eaters and difficult to switch to another food leaving the owner no choice but continue to keep feeding carb laden foods. But what really becomes problematic are the health complaints that go along with the carbs including urinary tract infections (UTI's), urinary crystals or stones, renal failure and diabetes being some of the most common ailments with our cats. Do you see that a majority of these more "popular" ailments all are associated with the urinary system? And when feeding dry kibble we often avoid giving our cats the extra moisture or making sure they consume enough water. There is some belief that feeding cats canned food starts a trickle effect of the cat not wanting dry food and that it builds plaque on the teeth from not crunching anything. Cats need the moisture which is the main reason they are attracted to the canned foods over the kibble. The plaque would be the last of my worries if a major ailment, like those listed above, materialized.
How & Where Do You Start To Feed Raw?
Cats can be finicky as mentioned previously. Sometimes making the switch to raw takes several attempts and loads of patience but the more persistent the owner, the easier to switch. I typically suggest purchasing small portions to start and integrate the raw into some canned foods to get them used to the taste and texture. Depending on how your cat takes to the raw you can slowly increase the amount of raw and decrease the amount of canned foods until they are switched to 100% raw. Most average sized cats eat three to four ounces twice daily. The size should be equivalent to a small can of cat food. This doesn't seem like very much but cats are able to digest the nutrients in a bioavailable form much easier than kibble or cans that have been processed. A digestive enzyme and probiotic blend can also ease the transition. This added supplement allows for the digestion and absorption of nutrients and also helping build the gut functions if the cat has never had a variety of foods and avoiding digestive upset.
"Feeding our animals a raw diet is the best decision we could have ever made! Feeding raw meat has proven to have numerous benefits here for us. Many people who visit our cattery also notice a significant difference in our animals compared to others who may have a dingy coat, bad smelling breath and just lack that vibrant glow they get from a dry food diet. Before switching to raw meat we would encounter GI issues often. Now, every single kitten takes to raw meat at an exceptionally early age while continuing to nurse on their mother. This promotes self-weaning, confident kittens and healthier babies all around. Not to mention the nursing mother stays extremely healthy and is able to maintain her weight and energy so she can easily nurse and care for 7 or 8 kittens for up to 11 weeks! We never have to worry about food recalls or keeping up with the latest trends out there on the market. We know exactly what is going into our animal's bodies each time they eat. We couldn't imagine ever trying it another way again!"

¬- Michelle Janicek, Lake Leopardz Bengals

"Midnight and Kitty-Cat are our two cats who we started on raw when they joined our family as rescue cats. Kitty-Cat is now 22 years old and is agile as well as still eating a raw meat diet. My husband, who is also a homeopathic veterinarian is a firm believer in feeding a species appropriate diet to our animals. I believe that's why our cats have had thriving, active and healthy lives."

-- Charmaine Dupree

I came into The Pet Beastro desperate for solutions for my cat who had been suffering from chronic diahrrea for over a year.  After working with Jill to find the right raw diet for my Stella, within 2-3 days of transitioning her over from her presciption diet, the daily diahrrea disappeared!  My cat immediately had more energy, was playing more, under the bed less, and was waiting in her spot for every meal.  She LOVES the chicken and turkey!  Thanks Jill and The Pet Beastro!

 

--Lauren Willette
Additional Benefits of Feeding Raw For Your Cat
In my own experience I have seen many improvements with both cats and dogs. What folks typically notice first is a difference in the skin and coat as well as an eager pet waiting for their meal because they like the raw food better. Other benefits include:
• Smaller, less smelly stools
• Less water consumption
• Reduces allergy side effects
• Eliminates pet odors
• Cleans teeth naturally
• Provides better weight control
• Can eliminate diabetic symptoms
• Can eliminate colitis or irritable bowel syndrome
• Improved skin and coat (less dander/shedding)
• Promotes overall health
There are many myths that circulate as to why a raw diet wouldn't benefit a cat. Don't get me wrong, I'm sure a small percentage of cats for some reason don't do well on a raw diet but for the majority this is what cats should be eating. Their digestive tract is short and more acidic, setting it up to digest raw not wheat, corn and soy. There are many different brands of raw, offering different recipes to compliment what is best for your feline. Some have vegetables, offering minimal carbohydrates and others are strictly meat based. Even with raw foods, you also need to be educated on the product you are choosing because some companies are pasteurizing and others are still sourcing meat from China. If you need guidance or suggestions to switch your feline, stop in today. Any staff member will be able to guide you in the right direction with extra suggestions.
Don't forget: When handling any raw meat, even for yourself, don't forget to use safe handling and sanitary habits.
May & June 2013 Feline Specials
Primal Frozen Cat Formulas are 20% off
Chicken & Salmon 3 lb
Beef & Salmon 3 lb
Turkey 3 lb
Primal Frozen Cat Exotic Formulas
Rabbit and Quail 4 lb
Buy 1, Get 1 50% off
Primal 2 pound Grinds and Mixes are 20% off
Chicken
Turkey
Beef
Lamb
Sardine
Buffalo