There are so many fun holiday festivities for our four-legged friends we just had to share. Check out our Cyber Week, 12 Days of Daily Deals, Holiday Themed Pet Photos, Virtual Holiday Themed Caricatures, Howliday Dinners, Bingo, and 6 days of giveaways. So many great ways to celebrate the season with your dog or cat.
Mark your calendars for all the specials and events we have coming your way for the holidays. Don't miss out on these savings, they only come once a year. 
Cyber Week
We are celebrating a whole week of CYBER DEALS just for your cat or dog! From November 30th to December 6th, choose your savings from $5 - $20 off PLUS earn a FREE item* ($10 - $15 value) and FREE shipping** on your online purchase.
Choose Your Savings.
Spend $49 get a FREE item*
Spend $59 get $5 Off with code: CYBER520 PLUS a FREE item*
Spend $79 get $10 Off with code: CYBER1020 PLUS a FREE item*
Spend $99 get $20 Off with code: CYBER2020 PLUS a FREE item*
PLUS Earn Free Item*.
Monday, 11/30, 2020: FREE Toy
Tuesday, 12/1/2020: FREE Treat
Wednesday, 12/2/2020: FREE Recyclable Beastro Bag/Goodies
Thursday, 12/3/2020: FREE Freeze Dried Food Item (5.5 oz.)
Friday, 12/4/2020: FREE Reusable Canvas Beastro Bag/Goodies
Saturday, 12/5/2020: FREE Cat Or Dog Food Cans
Sunday, 12/6/2020: FREE Colorado Hemp Honey Sticks
PLUS FREE shipping** on all orders over $49.
*Valid on all online orders from 11/30/2020 through 12/6/2020 for curbside pick up, local delivery, and 3rd party shipping. All FREE items are chosen by The Pet Beastro. Limited quantities available, first come first served, while supplies last. NOT valid on in-store shopping or phone orders.
12 Days of Daily Deals

 

We're kicking things off for our 12 Days of Daily Deals on Tuesday, December 1st. For 12 days we will have a smoking deal for your cat and dog. That's two incredible deals a day!
From Tuesday, December 1st - Saturday, December 12th, we're offering fantastic savings on some of our best cat and dog items. Then, on December 13th we are going to have a BONUS day with even more savings. We've been working with our product partners to share with you savings of no less than 50% off, and in some cases, up to 80% off! 
Savings are valid only on the date noted for that promotion on in-store, in-stock items. No rainchecks, when we sell out, we sell out, so you'll want to make sure you stop in and snag these great deals while they last. 
We'll be offering a final time to buy each day's deal (if any are leftover) and premiering the next day's deal on Facebook with a live video at around 7:15 pm ( 6:15 pm on Sundays) so you can plan to stop in and stock up on your favorites! 
Check out our look book of upcoming deals! 
Virtual Holiday Caricatures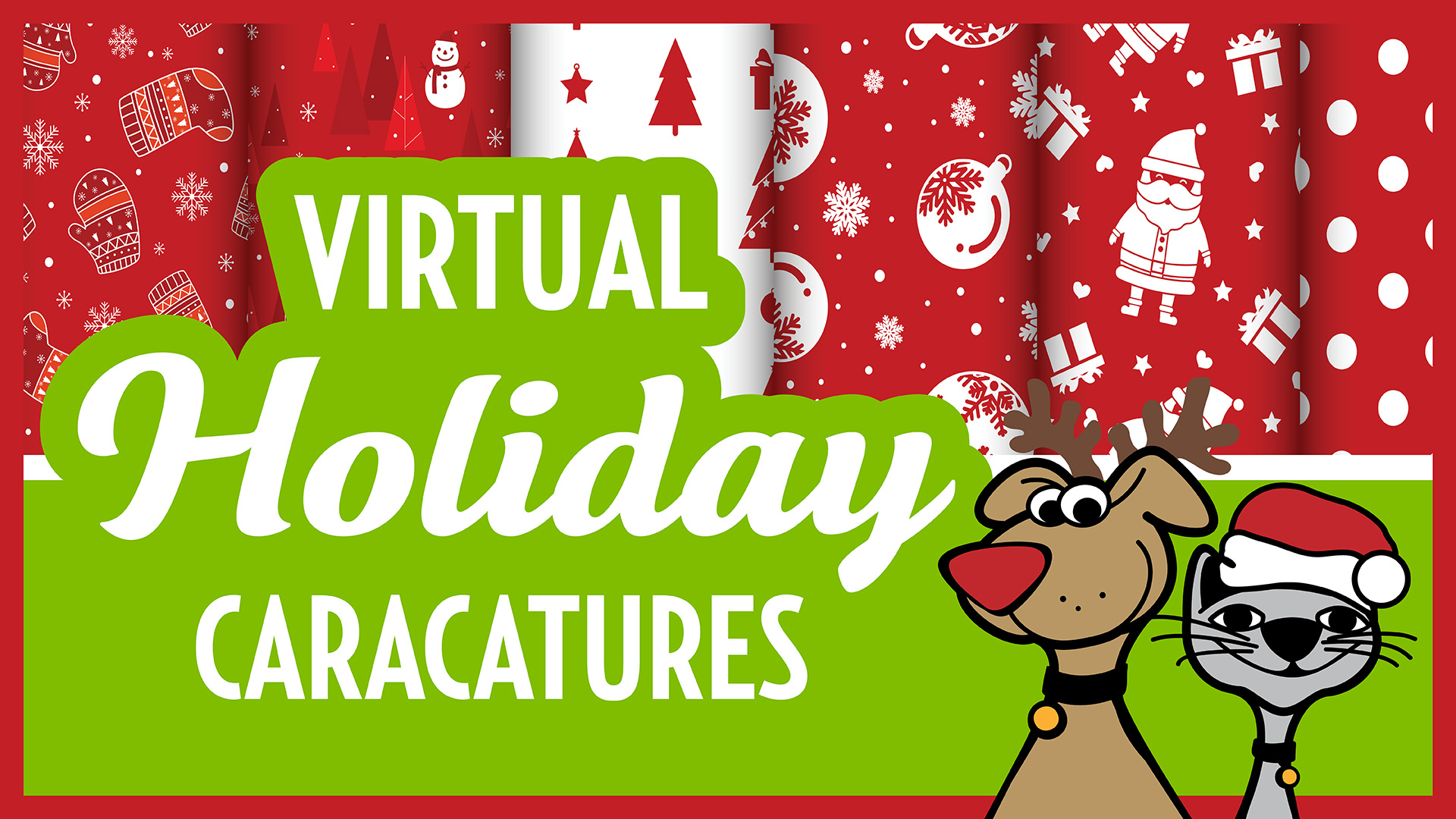 Even though we are unable to have our normal holiday open house this year, we will still be offering pet holiday caricatures and in-store pet holiday photos. We will be accepting photos for the holiday caricatures from December 1st - December 13th via email at [email protected]om. The caricatures will be available for pick up in-store on December 21st. 
The cost is $10 per drawing/pet/subject. 
In-Store Holiday Bingo
Stop by the store in Madison Heights, Michigan, and grab a Beastro Bingo card for your cat or dog starting on December 1st.
Earn squares with every purchase made in-store throughout the month of December 2020.
For each Beastro Bingo you earn,  you will receive between $10 - $30 (the more Beastro Bingos the more savings) off in-store purchases from January 1, 2021 - January 31, 2021.
As an added bonus, anyone who gets a Beastro Bingo will be entered into a drawing to win a $100 gift card to The Pet Beastro on February 1st, 2021 via a Facebook Live drawing.
Holiday Photos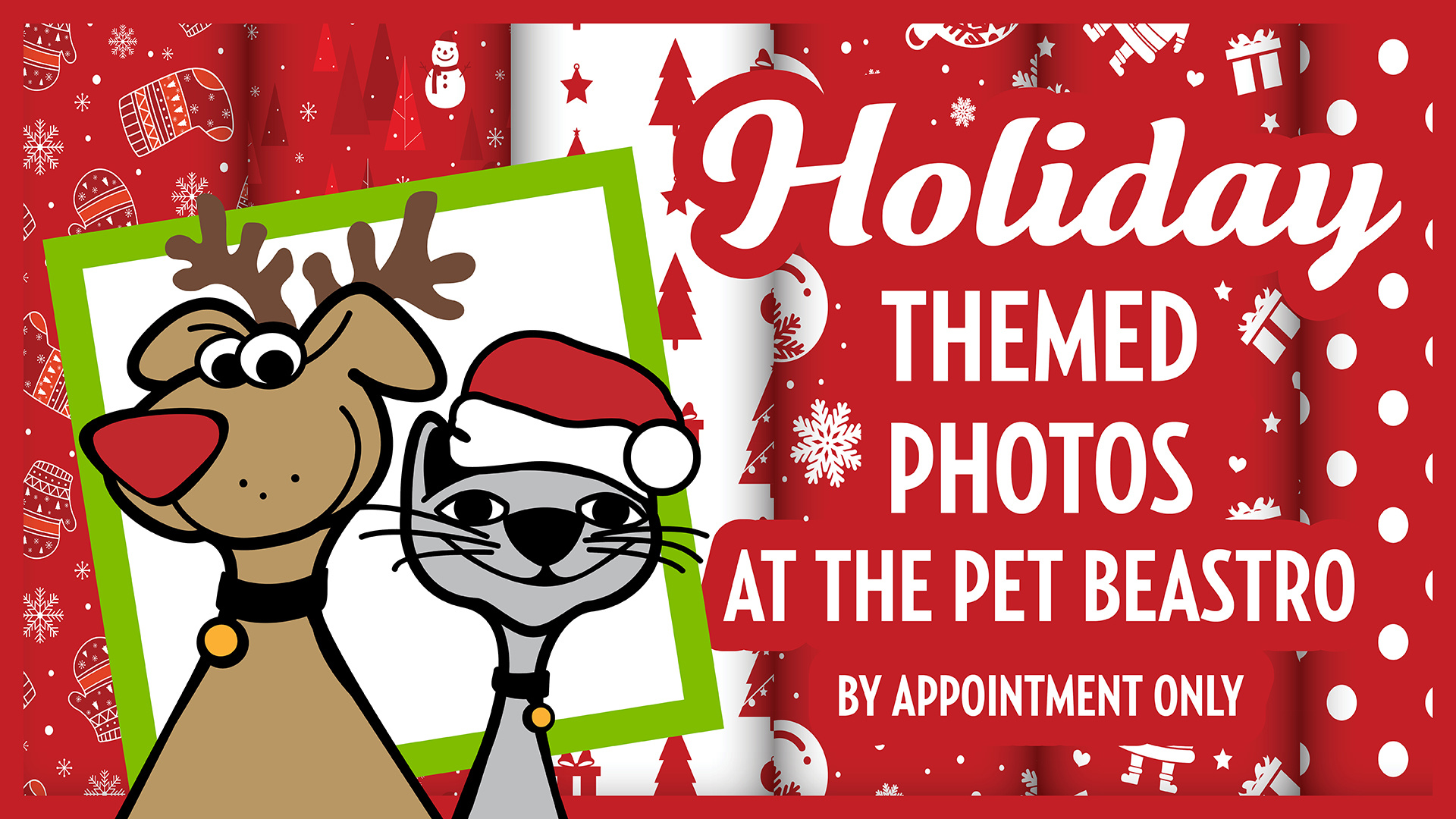 We are still having our annual holiday pet photos (Santa will not be in attendance this year due to Covid social distancing). The in-store pet holiday photos will be by appointment on December 6th, 13th, and 20th from 12 pm - 3 pm. Due to social distancing guidelines, There will be a fee of $10 per photo/pet/subject for holiday photos.  
Call the store to reserve your appointment today at (248) 548-3448.
Howliday Dinners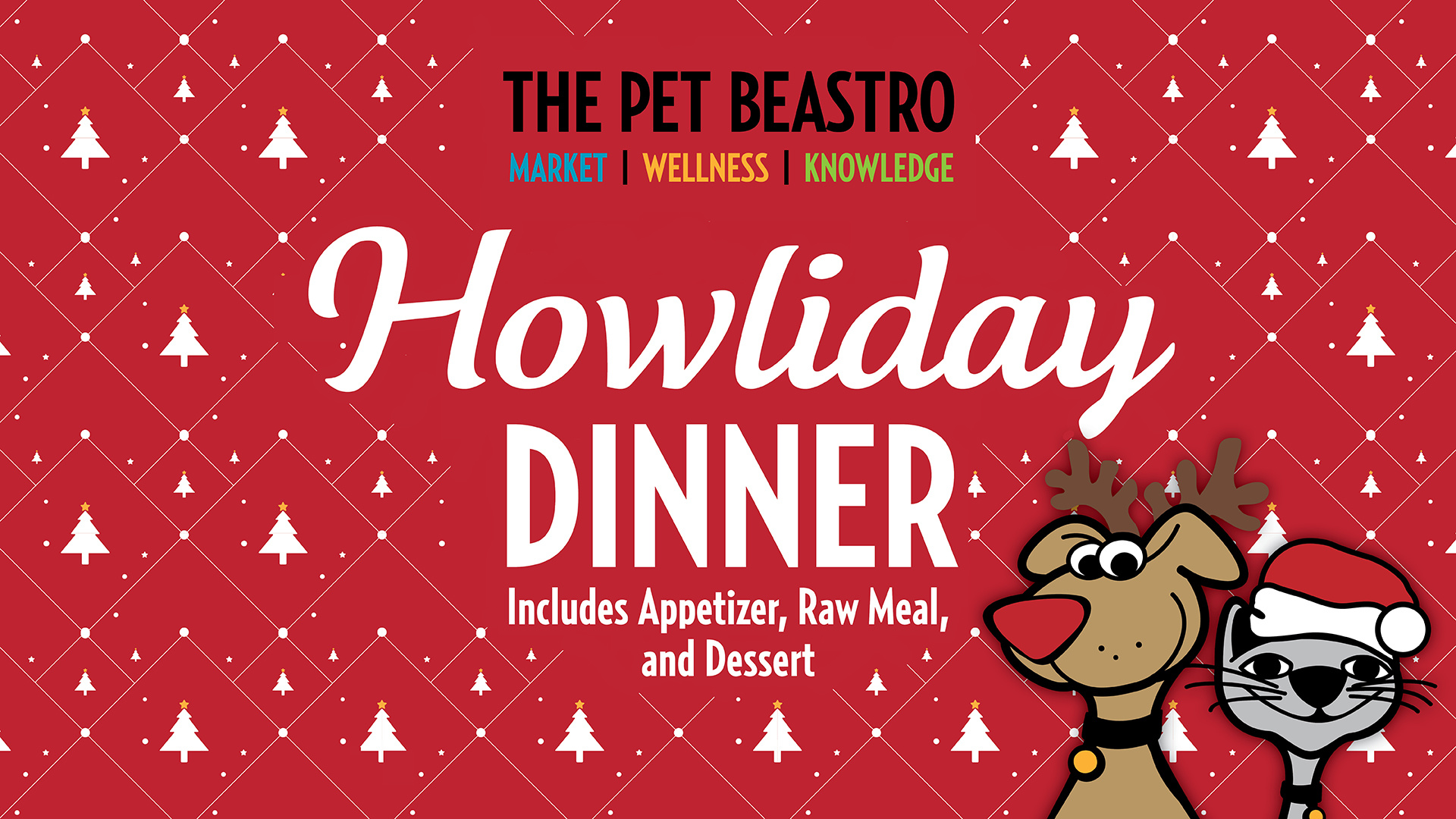 The Pet Beastro Howliday Dinners will be this year's favorite for your cats and dogs! These delicious and nutritious dinners will be made with your cats and dogs in mind! Just like our Thanksgiving Feast Dinner, but this meal will have red meat varieties. 
These Holliday Deluxe Dinner Boxes retail for over $65.00 but for a limited time you get all of these amazing items for just $29.99. This is the pawfect opportunity to try some new items for your pet at a deeply discounted price and enough to share in multi-pet households too! Feeding a healthy and safe holiday dinner to your cat or dog is a great way to spoil them with their own special meal created just for them.
Holiday Catalog
Tis the season to be merry and bright. Shop specially selected holiday-themed food, treats, toys, and more just for your dog or cat here.
Holiday Cash Redemption 12/1-12/24
If you earned $10 in Holiday Cash in November, now is the time to redeem it for even more savings at The Pet Beastro!  Stop in the store and shop any time from December 1, 2020, through December 24, 2020 (Don't forget we close at 4 pm on Christmas Eve.) to save! 
6 Days Of Giveaways
If the doorbuster deals on your favorite pet products from the 12 days of daily deals weren't enough we have 6 days of giveaways. From December 26th through December 31st, we'll be kicking off our 6 Days of Giveaways with a Facebook Live video from Dr. Jill the evening of Tuesday, December 24th around 3:45 p.m. (Don't forget we close at 4 p.m. on Christmas Eve.) She'll be sharing all of the information on the daily giveaways and how you can play to win... and who doesn't like winning!
HOW TO PLAY:
"Question Of The Day" Facebook Post
Every morning at 7 a.m. starting on Saturday, December 26th, and ending on Thursday, December 31st (Open until 7 pm), we'll post a "Question of the Day" to The Pet Beastro Facebook page. To be entered to win that day's Giveaway, just react "Like, Love etc" the post and answer the question or add a photo in that post's comments by 9 p.m., it's just that simple.
Two ways to enter to win:
React (like or love etc) to our Facebook Question of the Day Post

Respond to the Question in the Comments with a photo and or answer
Cheers! The Winner Is..

.
Dr. Jill will go to Facebook Live every evening at 9 p.m. to go through some comments and allow last chance entries before closing the contest at 9 p.m. Note: Sunday, December 29th, the Facebook live will be at 9 p.m. After all of the Facebook likes and comments are captured, she'll select a winner with the help of a random generator app (we're getting hi-tech here at The Pet Beastro!) and announce it live! Will it be YOU?
What Do You Win? 
We are celebrating 20...20 each and every day leading up to the New Year. The lucky winner(s) will get a $20 gift card to The Pet Beastro to shop in-store for whatever they need! AND we will donate A Pet Beastro $20 gift card to a local rescue to spread more cheer to those in need. We will be spinning our prize wheel on 12/31/20 to see which lucky rescue will receive the donated $20 gift cards (totaling $120). 
So let's keep the fun going and get ready to win starting Saturday, December 26th!
This promotion is in no way sponsored, endorsed, or administered by, or associated with Facebook. The winning comment or like will be picked by random number generator application, Woobox each day on or after 9 p.m. Gift cards are only available for in-store purchases. Winners must be able to pick up their gift card in our store in Madison Heights, Michigan by January 31st, 2021. If they cannot pick up their prize it will be forfeited. Limit one gift card per person, non-transferable. You can only win once. Each winner must pick up their own gift cards. You cannot pick up someone else's gift card. Gift cards have no cash value and not valid on wellness services.