Explore The Pet Beastro's collaboration with Vital Essentials, which is committed to enhancing pet health and addressing common pet parent concerns. Discover Vital Essentials' range of freeze-dried, frozen raw, and wholesome treats tailored to health-conscious pet parents' needs. With a 5% discount throughout November, prioritize your pet's well-being with premium, biologically appropriate nutrition.
At The Pet Beastro, we're dedicated to enhancing the well-being of your beloved pets. We understand your desire to see them thrive and enjoy a long and healthy life. However, we also recognize the challenges and concerns you face when it comes to selecting the right pet food. This November, along with Vital Essentials, we share your passion for pet health, happiness, and overall wellness. They've made it their mission to provide the highest quality in raw nutrition to ensure your pets live their best lives.
Vital Essentials has made it its mission to offer the highest quality raw nutrition, ensuring your pets can live their best lives. Plus, throughout November, you can enjoy a 5% discount on all Vital Essentials products. Vital Essentials is passionate about bringing your pet the finest raw diets around! They are a family-owned and operated company that is dedicated to helping pets thrive and lead healthier, happier lives! 
A Biologically Appropriate Diet
Vital Essential's mission is to provide every pet with the finest and highest quality in raw nutrition. They pride themselves as the most biologically appropriate commercially available pet food in the world. With Vital Essentials, every pet can enjoy a pure, raw, species-appropriate diet, nourishing their cravings for pure raw meat with a premium diet.
The Vital Essentials Range: Addressing Your Concerns
Freeze-Dried Products: Optimal Convenience for Busy Pet Parents
Are you worried about finding nutritious options that suit your fast-paced lifestyle? Vital Essentials' freeze-dried products are designed with busy pet parents in mind. The convenience of freeze-dried food ensures that your pet gets all the vital nutrition without compromising your schedule. The freeze-dried range is perfect for satisfying your pet's cravings while simplifying your life.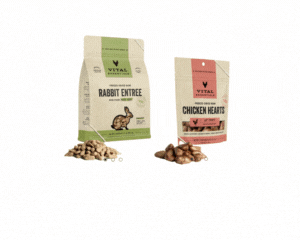 Frozen Raw: Wholesome and Unprocessed Ingredients for Health-Conscious Pet Parents
Are you concerned about the quality of ingredients in commercial pet food? Vital Essentials is the solution. Their frozen raw products retain the goodness of real, unprocessed ingredients. They're a choice for health-conscious pet parents who value transparency in their pet's diet. You can trust that your pet is consuming high-quality, biologically appropriate raw food.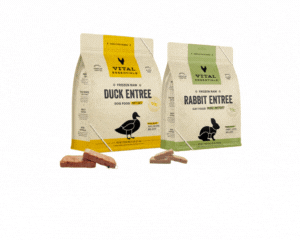 Treats and Snacks: Reward Your Pet with Wholesome Goodness
Looking for treats that align with your pet's nutritional needs? Vital Essentials' treats and snacks are not only delicious but also wholesome. You can reward your pet with various raw snacks catering to their health and wellness. These treats are designed to address your concern about the quality and freshness of your pet's snacks.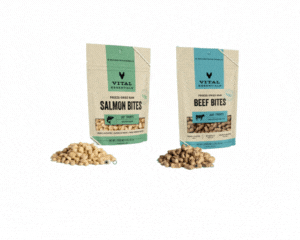 Elevate your pet's nutrition and health with Vital Essentials. Stop by our retail locations in Madison Heights, Michigan, just north of Detroit, or in Warren, Southeast Corner of East 14 Mile Road and Schoenherr, which are open Monday through Saturday, 10:00 am - 8:00 pm, and Sundays from 10:00 am - 6:00 pm. Also, visit our 24/7 natural pet food treats, toys, and supplies store online. Please message us on Instagram, Facebook, or TikTok to discover their products at The Pet Beastro and embark on a journey to better pet health.