Posted on
By Staff Blogger: Josephine Richardson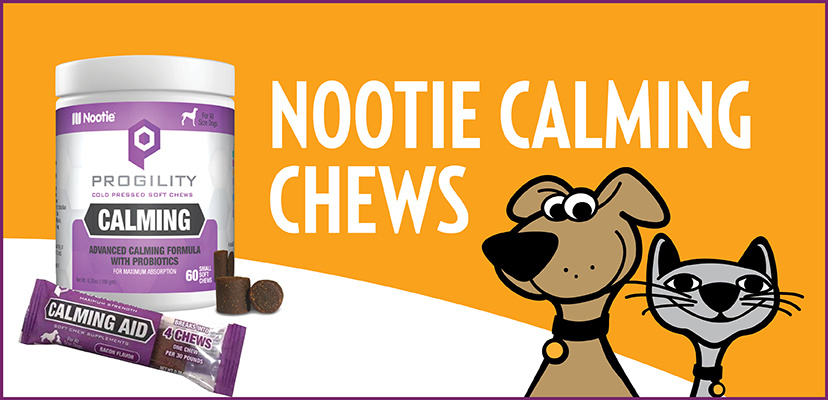 Does your dog suffer from anxiety induced by fireworks, car rides, etc? The Nootie Calming Chews are the perfect solution to ease situational anxiety quickly. They are specially formulated with probiotics & beneficial calming ingredients to provide your pup with all of the essentials.
About Nootie Pet Products
Nootie is a family-owned company by Lonnie and Jennifer Schwimmer; they started Nootie after Lonnie discovered a need for pet shampoos that are safe, effective, and pleasant smelling. Since starting Nootie in 2008 with their original shampoos, they have also developed a line of supplements and dental solutions to help with pets' overall wellness.

What is the Nootie Progility Calming Aid Supplement?
These all-natural and safe calming chews are veterinarian-formulated with probiotics. Progility Calming Aid is specifically formulated to help relieve the effect of dogs that suffer from situational anxiety. Examples of situations where these chews may prove to provide relief include:
Car Rides - both short and long trips

Vet Visits

Fireworks

Thunderstorms or other loud noises

Visitors to your home

New buildings or situations such as grooming appointments

Visiting relatives or friends
Fast Acting Beneficial Ingredients Anti-anxiety Chews For Pets 
L-Theanine is plant-based and helps promote relaxation and lower stress.

Thiamine (B1) strengthens the immune system.

L-Tryptophan is an essential amino acid that reduces anxiety and stabilizes mood.

Melatonin helps reduce the stress caused by noise phobias.

Valerian is a nervine supplement that increases GABA that helps reduce stress and anxiety.

Colostrum helps support the immune system, stress reduction, and cognitive function.

Ginger can aid in gastrointestinal upset that may happen with stress.

Lactobacillus is a probiotic that has been proven to reduce anxiety.
Nootie Calming Chews For Pets Options
This supplement comes in a choice of a 90-count container or their single-serve 4-count option. The 4-count single-serve is a great way to try the product before committing to the 90-count container. It is also great for travel as it packs easily or even keeps on hand if a situation arises. Progility also supports its customers by offering a frequent buyer program with any of their 90-count supplements.

Nootie's Testimonial
I have found Nootie's Progility Calming Aid beneficial for my dog, Jack. Jack is an overall calm and laid-back dog. However, he is terrified of thunderstorms, fireworks, and loud noises. This Calming Aid chew has proven to be the right combination of supplements that help ease his anxiety during these situations. To prepare him, I give him the suggested dosage about 20 to 30 minutes before them, even when I can anticipate it. It is just enough to allow him to rest and get through the day. 
Jack is also not great on car rides since he often can't settle and constantly pant and drool. A few years ago, we decided to take yearly road trips with the dogs. I thought this would be a disaster, but we took the chance. I packed several of the single-serve 4-count, which are perfect for travel. About 30 minutes before our departure, I gave Jack a dose. He was slightly anxious when we first started our trip but was able to settle right in and even slept through parts of the trip. We have since taken several road trips and always bring Calming Aid. 

How To Reduce Dog Anxiety From Holiday Fireworks
Overall, this calming supplement is often a fan favorite leading up to any holiday where fireworks may be involved in the celebration. This calming chew can be combined with other calming options for the benefits of having a laid-back dog during festivities and other events that may cause them to shake, pant, drool, urinate, hide, or be terrified of their surroundings. Not only are these behaviors not any fun for your dog to experience, but an owner won't have to worry about their dogs' high-stress levels. 
If you aren't sure where to start with choosing a calming chew, stop into our retail store and chat with any one of our trained staff members. The entire staff has experience with varying anxiety issues with our pets. You can always shop our online pet food, treat, and supply store 24/7.