Beastro Family, Last week we unveiled the TOP 5 products of 2022 at The Pet Beastro. Now's the turn for products 6 to 10. Are there any surprises on the list?!
Beastro Family, Last week we unveiled the TOP 5 products of 2022 at The Pet Beastro.

Now's the turn for products 6 to 10. Are there any surprises on the list?!
6. Nulo Canned Cat Food
Nulo has all types of wet canned food for your kitties. There is something in their lineup that your cat may enjoy. You can choose from pate, stews, shredded, minced, and pouches to mix it up. Pate-style foods are higher in calories per ounce if your cat needs calories. Pouches with added broth support the urinary system, as the extra broth helps with hydration. As many of our employees are cat owners, we understand the importance of having various options for our feline friends. They are particular when it comes to texture and flavor. Nulo is a brand that gives cat owners options in both categories when deciding!
One of our customers, Katie, has nothing but great things to say about Nulo Salmon & Turkey minced cans. She says, "

Favorite brand for both of my cats. They don't like pate and are pretty picky. They never refuse to eat when it's this brand."
 7. Etta Says Yumm Sticks
Looking for a 100% human-grade meat jerky treat? Look no further than these individually wrapped jerky options. These jerky's are healthy and void of fillers, hormones, nitrates, or MSG. Just filled with wholesome ingredients making us human pet parents feel good about giving our pups all-natural treats. 
Our online associate Nikki says, "My dog Bean's favorite flavor is Chicken, but he also loves every flavor of Etta Says Yumm Sticks! They are one of his all-time favorite treats!". Nikki also says, "I love the flavor varieties, and versatility of Etta Says Yumm Sticks. The variety of flavors is great for rotational feeding. They are also high-protein, making them a great energizing healthy snack. Etta Says Yumm Sticks are convenient and versatile. They are great for a snack, reward, training, and more. You can feed them whole or easily break them apart into smaller portions. I love how easy they are to break up and portion out for Bean as a reward throughout the day." Nikki also uses these snacks many different ways for Bean. She states, "I love using Etta Says Yumm Sticks as both a snack and reward for Bean throughout the day. Sometimes I feed them whole as a high-protein healthy snack between meals. I also break them into small portions and use them as a reward for going outside, following commands, and as a before-bedtime snack."
8. Fussie Cat Canned Food
Fussie Cat has once again upped the bar. This year they launched three pate style of wet canned food for cats that correlates with their dry food options. These three flavors are pate style. In addition, they have several flavors in a shredded format that has been a feline favorite in our store for some time. We love that the Fussie Cat mission is meat first, making sure to satisfy our little cat carnivore diet needs. These top-notch options are made in FDA-registered kitchens with the same standards as human foods. Cat moms and dads love the variety that is offered within their lineup. Fussie Cat has dry food and puree-style treats to satisfy your cat's needs.
Our customer Paula says, "

We love the Fussie Cat brand esp., tuna with clam. Our cats are indeed fussy. They only eat fish-based products, and Fussie Cat has a variety of flavors that they love. With it being grain-free and real food, I know they are getting a great meal without unnecessary ingredients to keep them healthy." Another customer Steven says his cat is a fan of the tuna with mussels flavor. He says, "This one doesn't disappoint my cat; he never seems tired of it and keeps it down. I like that it seems like premium tuna vs. the fish foods that have all dark tuna, which he's not crazy about."
9. Nulo Dog Pouches
You must get some for your dogs if you haven't heard of these Nulo Dog Pouches yet! These are all-time favorites, and not surprising to see them in our top 20 for 2022. These flat pouches are great to stuff in your to-go back for your dog, great to take on hikes as a quick snack, a wonderful mid-day lunch at doggie daycare, and so much more. These pouches are great to mix with your dog's regular food as they are limited ingredients with no vitamin or mineral pack. We love this idea as it reduces the ingredients and allows you to have more control of the ingredients for dogs with allergies. 
Our sales associate Jayden loves using these pouches with her dog Shooter. She says. "

Our favorite Nulo pouch is the chicken, duck, and kale, and I feed them when I know I am going to be late for dinner so it can tie him over as a snack. I sometimes give it to him in the middle of the day if he is hungry. It is a super easy and quick way of keeping him content until dinner time."
10. Nootie Calming Aid
This might be the first time a supplement has made the top 20 list. However, it doesn't surprise me as we know this is a must-have when it comes to fireworks, thunderstorms, vet visits, grooming appointments, long road trips, airplane travel, or any other time your dog is in need of calming support. Over the last decade, our dogs have suffered from anxiety caused by many different events. These quick calming treats are great to add to your dog's travel bag or even stuff in your pocket when needed. 
Maddie says, "I started using this calming product to test and see what all of the hype was about. I was quickly shown exactly why our customers love it! I first tried out Nootie Calming Aid on July 4th of, 2021. I visit a family member's house yearly to watch my Uncle's fireworks, including the larger, louder fireworks. As a kid, I never realized how harmful fireworks could be for all the dogs in the neighborhood because we never had a dog with anxiety. It just so happens my uncle got a Golden Retriever named Ginger, and she is unfortunately not a fan of the loud booms. When Ginger hears the loud noise of the firework, she hides behind the couch, shaking, absolutely scared out of her mind. So last year, I decided to bring these over to help calm her nervous system. I gave Ginger the calming aid 30 minutes before the festivities were about to start, just as the directions stated. Much to my surprise, Ginger got brave enough to poke her head out to the front porch and joined us for a while to watch the fireworks. As you can imagine, my Uncle purchased more of the Nootie Calming Aid to keep on hand for thunderstorms and any other Ginger might need."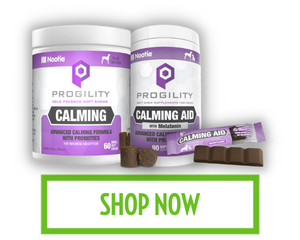 Stop by our retail location in Madison Heights, Michigan, just north of Detroit, which is open Monday through Saturday, 10:00 AM - 8:00 PM, and Sundays from 10:00 AM - 6:00 PM, or visit our 24/7 natural pet food, treats, toys, and supplies store online, to shop our TOP 20 products of 2022! Please message us on Instagram or Facebook for further questions!