Beastro Family, it's the fourth and final week of our Top 20 Products of 2022! Check out the products 16-20.
Beastro Family, it's the fourth and final week of our Top 20 Products of 2022! It's been a journey throughout the whole month! It started three weeks ago when we unveiled the TOP 5 products of 2022 at The Pet Beastro

Then, we unveiled the next 5 products (6-10)

Last week, the next batch of Products (11-15) was released!

Now, it's time for the final 5 products of our Top 20 product list!
16. Northwest Naturals Functional Toppers
You are missing out if you haven't snagged one of these yet! These toppers are a fan favorite for both cats and dogs! The toppers have endless uses, from topping wet food, a few shakes on dry food for picky dogs, ways to sneak supplements into your pet's bowl, or use it as sprinkles on top of that yogurt treat cup! Choose from three awesome flavors that all have a bonus to support health and wellness. 
Our sales associate Jayden says, "

My pup's favorite is the Salmon with shiitake and maitake mushroom topper, but I love how they all have their functions. I give him the salmon because it is great for heart health and immune support!"

Jill uses them when her cats are picky. She says, "If my cats aren't particularly fond of the food selection I've made for them, a few shakes of beef liver on top of the raw or canned food gets them re-interested in my choice. My cats have never completely walked away from their food once the Functional Toppers have been added. My cats love the beef liver, and I like the turmeric combined with the liver to support the body while reducing inflammation."
17. Frozen Yogurt
Our in-stock frozen yogurt selection is made with healthy ingredients for cats and dogs. It's an all-natural, safe treat that supports their digestion and is also a lot of fun for them to eat. Not only is it healthy, but it's an alternative snack when you want to keep them busy and also help satisfy their cravings for something tasty. Since frozen yogurt uses ingredients like goat milk, Greek yogurt, and natural ingredients for added flavor instead of sugar, best of all, it's great to pair with a birthday cookie for some birthday party fun. You should check out our healthy options for pets in this frozen snack category.
Our customer Samantha says, "Pups love it, and it keeps them busy." The yogurt cups are easy to hand out while just peeling off the cardboard top and handing the cup over to your pup. If your pup has some of their friends over, each pup can have its frozen yogurt.
18. Lotus Raw Food
Lotus Raw Cat Food has revolutionized species-appropriate feeding for cats. Lotus takes pride in providing optimal nutrition for felines using only the freshest ingredients and the highest quality standards. Their recipes are carefully crafted to replicate how nature intended - giving your pet species-appropriate meals that will spark their step and keep them happy and healthy! Through species-appropriate feeding, cats can enjoy excellent health for many years - and with Lotus, it's as close to nature as possible!
Jill says, "This is a go-to staple for raw food with my cats. Although imprinting has been done with all flavors, textures, and types, Lotus always seems to be a paws-up option with my cats. They never turn their nose up to any flavors, even the sardine. However, I will say that beef, chicken, and venison seem to be the favored flavors. The texture and consistency are always spot on, and I'm fairly certain the cats know the container!"
 19. Stella & Chewy's Canned Cat Food
Stella & Chewy's Canned Cat Food is the perfect all-natural solution for all your kitty's needs. The ingredients are responsibly sourced to avoid harmful ingredients or artificial additives, giving you peace of mind that your feline friend is getting all the health benefits. The canned cat food is bursting with flavors like chicken, duck, salmon, and tuna, all in moisture-rich formulas that are sure to make any picky eater happy. This all-natural cat food takes all the work out of keeping your cat well-nourished without sacrificing nutritional quality.
Maddie uses Stella & Chewy's cat food with her kitties. She says, "I struggled to find a food my cat crew all enjoys. About a year ago, I began feeding my cats Stella & Chewy's products. They have been very consistent with liking the texture and flavors that I bring home for them. I find that my cats have reduced vomiting, better digestion, better stools, and softer fur with fewer skin & coat issues. The texture is a thing with cats, so I like the choices of stews, pates, and shredded styles if my cats need a new option."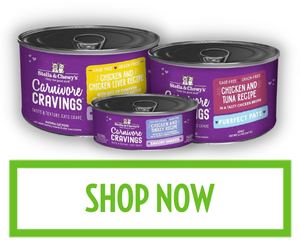 20. Orijen Freeze-Dried Treats - For Cats and Dogs
Orijen freeze-dried cat and dog treats are premium snacks from responsibly sourced and sustainably raised ingredients. These treats are made from animal protein, such as cage-free chicken, wild-caught fish, or grass-fed lamb, and are gently freeze-dried to lock in flavor and nutrition. They are void of fillers, preservatives, and artificial ingredients, making them a healthy and tasty treat for dogs of all sizes and life stages. With various flavors, these treats are a perfect way to reward, train, treasure hunt, stuff in an interactive toy, or a tremendous before-bed snack.
Jill says, "My cats have always been a fan of freeze-dried. With Orijen and other brands, they never pass by a treat. I use these types of treats to fill up the interactive cat bowls and hide them throughout the house to give the cats something to discover and snack on if we are gone for long periods. I hide them on windowsills, in the cat trees, scratchers, under the bed, on the book stand, you name it, but they find them. I like that these limited-ingredient, high-meat-content treats get my cat's attention every time. When I give Orijen freeze-dried treats as a snack to our dog customers, they rarely turn them down. It's a winner for both cats and dogs!"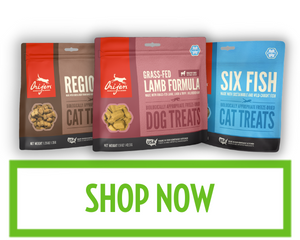 In 2022, The Pet Beastro's top sellers came from many categories: canned food, treats, toppers, supplements, and our reusable bags. We love being the go-to place to find these unique, high-quality pet products for your furry friends' health and comfort. We all have favorites within the store, but our cat and dog customers spoke to their choices in 2022! Cheers to a pawsome 2023!
Stop by our retail location in Madison Heights, Michigan, just north of Detroit, which is open Monday through Saturday, 10:00 AM - 8:00 PM, and Sundays from 10:00 AM - 6:00 PM, or visit our 24/7 natural pet food, treats, toys, and supplies store online, to shop our TOP 20 products of 2022! Please message us on Instagram or Facebook for further questions! Visit us on TikTok for exclusive The Pet Beastro Information!