It's the third week of our Top 20 Products of 2022, this time products 11 to 15! Some of our favorite brands are featured!
Beastro Family, it's the third week of our Top 20 Products of 2022! It started two weeks ago when we unveiled the TOP 5 products of 2022 at The Pet Beastro

 Last week we unveiled the next 5 products (6-10)

this time products 11 to 15! Some of our favorite brands are featured!
11. Fromm Four Star Canned Cat Food
Fromm's is one of our favorite brands at The Pet Beastro. Once you learn about the brand, you quickly understand why pet parents return for their options repeatedly. They have grain-friendly and grain-free cat options in their wet canned food lineup. If you want to pair the canned food with their dry food, we can help you with that. We love that Fromm's has their cannery and can all its formulas with brand recipes. They have a shredded, stew, and pate option for your felines. Shhhh! Don't tell the cats, but you can get the same awesome choices for canines too.  
The Pet Beastro owner, Jill, has used Fromm's pate-style food when she doesn't have raw food thawed for her cats. This is what she says about Fromm's canned cat food. "I love the high-calorie options that pate-style food offers. As much as I love to feed a strictly raw diet, there may be times when a canned food option is needed. I have used this when my cats have been sick or if they need extra calories in their diet. I also love that you can heat the canned food to help your feline get re-interested in food if we have missed a few meals, as getting meals into your cat is important. The variety of flavors is also helpful as cats can be finicky."
12. Koha Shreds Cat Food
Looking for a low-fat, highly digestible, highly nutritious, high-moisture cat food? If the previous description checks the boxes, you must check out Koha's options for kitties. We love that the shredded options look just like human canned food and smell just as good. If your cat takes interest in your human chicken dinners, this would be a great substitute for your felines. Shredded chicken options from Koha are also a low-calorie option for cats looking to lose weight as a 2023 goal. Koha has different options for all the finicky cats in your life. If shreds aren't your cat's jam, check out other options in their series of cat food.
Our customer Mary June has some great things to say about the Koha brand regarding cat food options. She says, "Love the limited (real) ingredients for the kitties, and the kitties seem to love it, too." And she also mentions, "

The cats (2 Ragdolls and a Russian Blue) liked it. And I like the minimal ingredients—grain, potato, pea, agar-agar, and carrageenan free."
13. FirstMate Canned Cat Food
Looking for the next best-canned cat food? Look no further than FirstMate. The texture is a big deal for cats picking their favorite meal. FirstMate is a pate-style food, but it's a soft pate with lots of moisture. This is one of our recommendations, as most cats like the texture and taste. FirstMate offers both grain-free and grain-friendly options based on your cat's needs. FirstMate is a family-owned & operated company that has complete production control over all manufacturing. These are the kind of companies that meet our Beastro Promise.
Jill says, "My cats have never turned down any flavor from FirstMate. Although my cats are raw-fed, we have occasionally forgotten to thaw food or mix a can with a small amount of raw food to get them through to the next meal. The texture is soft and moist, just what my cats enjoy. They can have a real food smell that is also attractive to my cats."
14. Primal Butcher's Blend
These frozen toppers are a great way to add something fresh to your cat or dog's bowl. These all meat limited ingredient toppers are 100% animal protein, organ meat, and ground bone. These quick-thaw toppers are great for picky pets and those with food allergies and intolerances. Primal Pet Foods always meets and exceeds our Beastro Promise by going above and beyond to find farms that use humane practices, quality, and transparency. 
Maddie uses Butcher's Blend for her multi-pet household. She says, "Chicken gets all paws up at my house! This is the

favorite flavor of my pet vote. My cats have always preferred poultry over fish and red meat options. I started using this product as a step in the door to raw feeding as transitioning my kitties has proven trickier than my dog. I have found that Primal Butcher's Blend was a crowd-pleaser for everyone, not only because it's so simple, just meat, bone, and organs, but because it's suitable for both my dog and my cats. This works well because if my dog isn't feeling the butcher's blend, I know my cats will happily clean up after him! It has helped me start our journey to a full raw transition in a very simple and approachable way for my cats! My dog, on the other hand, likes the variety! My dog is already on a fully raw diet, but when we are working on getting through larger bags of the same protein, it's nice to throw a couple of others into the mix. Primal Butcher's Blend has made this a lot easier!"
15. Canned Pumpkin Options
It's no surprise that canned pumpkin made it on this top 20 list. This is one basic cupboard staple that both eastern and western medicine can agree to use for our pet's digestive system. Pumpkin is full of vitamins and minerals while serving as a low-fat option that can support weight loss with cats and dogs. We have options from dehydrated to canned to frozen to puree styles whether you need a small or large amount, we have your needs covered.
Josephine says, "Pumpkin is my initial go-to supplement whenever I see loose stools or digestive distress. It's a bonus that my dog and cat love pumpkin mixed into their food. It's a low-stress, low-cost supplement that loves to use pumpkin options when her cats and dogs have digestive upset.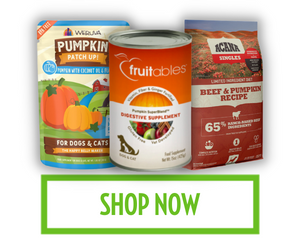 Stop by our retail location in Madison Heights, Michigan, just north of Detroit, which is open Monday through Saturday, 10:00 AM - 8:00 PM, and Sundays from 10:00 AM - 6:00 PM, or visit our 24/7 natural pet food, treats, toys, and supplies store online, to shop our TOP 20 products of 2022! Please message us on Instagram or Facebook for further questions!